Understand God's carefully laid-out plan for mankind's salvation in Christianity, from creation to Jesus and eventually to His second coming.
Salvation history meaning in Christianity is so simple, yet so deep. It's easy enough that everyone who hears it can understand to an extent and receive it, but it's deep enough that we can dedicate a lifetime of study to it.
Salvation history is the story of God redeeming man. It entails how God loved man from the very beginning of time and put plans in the works to bring him back to Himself after his fall. But a lot of people, believers too, have a lot of questions about it.
This article aims to answer the question of the true meaning of salvation, what the Bible says about salvation, as well as how to be saved.
Why Is Salvation History Meaning Important?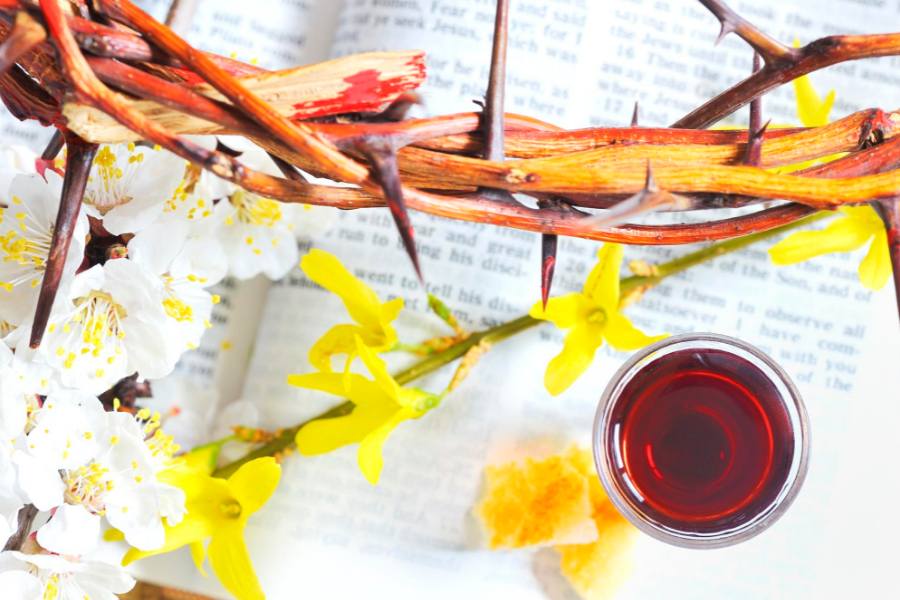 Understanding the past is essential in navigating the future. In the same way, we must understand our salvation history or how we came to be saved so that we can understand who we are and who we have been called to be.
When we understand God's purpose in creating and saving us from death, it gives our lives a sense of direction. Only by living in this God-given purpose can we gain true fulfillment in life.
The Story of Salvation History
The history of salvation in Christianity is a carefully drawn-out map in the Bible.
From creation, God loved man and made him a little lower than Himself and gave him dominion over all the earth. He put him in the garden of Eden and gave him all he needed to thrive.
But then Adam and Eve, the first man and woman disobeyed God by choosing to eat the fruit of knowledge of good and evil.
By doing this, they not only lost their place in Eden's garden and with God, but their place in the hierarchy of the universe.
Adam became subject to the devil and even the earth he had had dominion over would not yield unless he labored. His sins too would lead him to separation from God and eternal death.
God in His love, however, did not leave man to himself but initiated a plan to restore him back to Himself through Jesus.
Jesus came to the earth and the devil did all he could to kill him and hopefully abort the supposed plans that God had. If only he knew God's redemption plan, he wouldn't have killed Jesus. He did not know that Jesus' death was going to set the whole of mankind free.
Jesus came, died for the sins of man, and made a way for us all to be restored back to God, not only on earth but forever. Whoever accepts Him and His sacrifice would be saved.
Jesus is salvation because He is at the center of it all, everything leads right back to Him.
John 3:16 sums the salvation history up neatly by saying,
"For God so loved the world, that he gave his only Son, that whoever believes in him should not perish but have eternal life."
How Can I Be Saved?
Apostle Paul sums up the how of salvation in the words of Ephesians 2:8-10. It says,
"For it is by grace you have been saved, through faith—and this not from yourselves, it is the gift of God—not by works, so that no one can boast. For we are God's workmanship, created in Christ Jesus to do good works, which God prepared in advance for us to do."
By Grace
This part helps us understand that salvation in Christianity isn't a reward point, a medal, or anything we can earn for being good. Salvation is God's free gift of kindness to us, which we cannot earn and don't deserve.
Romans 3:23-24 puts it this way,
"for all have sinned and fall short of the glory of God,
and are justified by his grace as a gift, through the redemption that is in Christ Jesus,"
This makes it clear enough that God's salvation is made free to us because Jesus had already paid the price for it. It is a free gift.
It's like someone paying for all the goods in a supermarket. You walk in to hear that everything is free and you can go home with whatever you need from the shelves.
We buy and give Christian gifts for women on special occasions to the females around us that we cherish and those for men to the males. But God gave us the best gift of all; salvation.
Jesus has already paid the wages of our sins through His death, so that all who come to Him don't have to die, but have eternal life.
Through Faith
This is an important aspect of salvation. When the jailer in Acts 16:30 knelt down before Paul and asked, "Sirs, what must I do to be saved?" Paul and Silas both immediately responded to that question in the next verse,
"Believe in the Lord Jesus, and you will be saved—you and your household." (Acts 16:31).
As they stated, we must believe in Jesus Christ. But what does it mean practically to believe in Him? It means we accept the fact that He is God's son, and that He came down to earth to die for our sins.
We must accept His work on the cross to save us and that He is coming back again to take us with Him in glory. When we believe that, it becomes the reality through which we live our lives.
Convicting Work of the Holy Spirit
Jesus, speaking of this work said in John 16: 7-11,
"7. Nevertheless, I tell you the truth: it is to your advantage that I go away, for if I do not go away, the Helper will not come to you. But if I go, I will send him to you.
8. And when he comes, he will convict the world concerning sin and righteousness and judgment:
9. concerning sin, because they do not believe in me;
10. concerning righteousness, because I go to the Father, and you will see me no longer;
11. concerning judgment, because the ruler of this world is judged."
From these verses, we can clearly see that it is the Holy Spirit that does the work of convicting the unsaved to become saved. He does it in three parts,
● Convicting them of sin or helping the unsaved realize that they are sinful compared to the righteousness of God.
● Convicting them of righteousness or helping them understand that God graciously provides His righteousness and it is only this God-supplied righteousness that can save them.
● Convicting them of judgment by helping them understand that God has judged sin and Satan and so they will no longer be subject to them in Him.
Salvation is from the Lord
Jesus in John 6:65 clearly says,
"No one can come to me unless the Father has enabled him."
So there's the part of the unsaved to believe the gospel, but the work of salvation is done by God. God removes the old man, or sinful nature from the person and puts a new spirit, His spirit in them.
God in fact draws the unsaved to Himself, even before they are convicted and finally believe the gospel.
Not by Works
This is an aspect of salvation in Christianity that many people fail to truly understand. It doesn't come from your works or any good thing you do but rather produces good works from within you.
It is only when you are saved that you can surrender to God and allow Him to help you do the things that please Him. Even when you stumble in sin, it doesn't cancel out your salvation.
There's nothing we can do to earn salvation and nothing we can give in return that will measure up. Even our lives were never our own, to begin with. So we must not be so fixated on trying to earn our keep in God's salvation that we forget that God gave it to us even while we were yet sinners.
Scriptures On Salvation History
● Romans 6:23.
"For the wages of sin is death, but the free gift of God is eternal life in Christ Jesus our Lord."
● John 1:12–13.
"But to all who did receive him, who believed in his name, he gave the right to become children of God, who were born, not of blood nor of the will of the flesh nor of the will of man, but of God."
● Ephesians 1:13–14.
"In him you also, when you heard the word of truth, the gospel of your salvation, and believed in him, were sealed with the promised Holy Spirit, who is the guarantee of our inheritance until we acquire possession of it, to the praise of his glory."
● 1 Thessalonians 5:9–10.
"For God has not destined us for wrath, but to obtain salvation through our Lord Jesus Christ, who died for us so that whether we are awake or asleep we might live with him."
Conclusion
The history of salvation in Christianity itself is the gospel. It is the foundation on which the Christian faith is built. It is the Good News bringing life and hope to all who hear it.
Just as we've now come to a place of hope in Christ, we must also share this new-found hope with others. Salvation is the best gift we can give to anyone and it's free.
Jesus died to save as many people as possible and only we can make that happen. Share the Gospel with someone today.