Ladies, life is short – and you have to live it to the fullest and best! As a Christian, you most likely know the importance of seeking God's guidance in all areas of life. After the major issue of knowing God's purpose for your life, the most important one is your life partner (that's assuming you want to be married). So dear ladies, how do you know when God sends you the man you are called to be with?
When God sends you the man who is your husband, there are pointers to help you know that this man is worth considering. Someone rightly said that the person you marry can either make you or marry you.  
Love is the most sought-after human emotion. Everyone wants to be loved. From the orphan abandoned on the streets, to the over-pampered child in the duplex; boys, girls, men, and women. But is love enough in marriage?
After all, is said and done, life is about purpose – God's purpose. God's ultimate desire is for you to fulfill what He created you to be in life. With a loving and right partner, purpose works more effortlessly. Now, imagine this.
A lady gets married to a man, who abuses her mentally, emotionally, and physically. Truth is that such men often show the traits right from courtship but when God sends you the bloke you are called to be with, he will be different.
Life is beautiful – especially when you are with the right person so you need to know when God sends you the man called your husband! You certainly don't want that unbearable life with a man, who cannot love you lavishly and support your dreams and ambitions! Imagine again that the lady being abused stays in the marriage till old age; can she truly fulfill her destiny? I doubt it. I doubt if she will ever find real fulfillment deep inside her.
So ladies, here are solid tips to follow. Don't miss out on God's best; know and recognize when God sends you the man called your husband!
How to Know if God Wants You to be With Someone

There are countless singles' programs, talk shows, live events, etc. organized by churches and Christian ministers to help single sisters when it comes to the issue of courtship and marriage.
You have probably attended one, two, three, or many! Well, this article has a good recipe to help you know more about when God sends you the man who is your Soulmate.
One frequently asked question by single sisters is about how to know if God wants you to be with someone. Thank God for His goodness and mercy! He never leaves us guessing, or searching aimlessly in the dark. But we might miss it if we do not understand how and when God is the One working behind the scenes.
God is always speaking! The problem is with us – we are often too busy to listen or too occupied to bother to find out what He means by what He says to us. Yes, God moves in mysterious ways but He reveals them to us.
Still, wondering how to know if God wants you to be with someone? Most times, He has spoken to you already so here goes!
Providence. It's your friend's friend's in-house birthday party. So you are not really close to the celebrant and well, you don't feel like partying anyway. But your friend insists that you should please come along with her, and you oblige.
There, you meet Brother Steve and many others but somehow in the midst of the gist and laughter, Brother Steve has taken a liking to you.
Afterward, he keeps in touch and the rest, as they say, could be history! God is famous for using situations to bring people together – all the time. So watch it – God could want you to be with someone and it might happen through unexpected situations.
Intuition. Watch God's moves and suggestions to your spirit. You have to learn to trust your intuition and listen for the still small voice. This man has been friendly and consistently around you, maybe stylishly courting you. At times, you just find that you have become so comfortable in his company and there is a calm in your spirit about having a relationship with him. Maybe he has made his intention known but you are not sure, follow your intuition, it will never lead you astray.
He is an answer to prayer. In your times of communion with God, you have often asked Him some questions, that you can't seem to find, and answer. When God sends you the man you are to be with forever, a number of times, he will be an answer to your prayer.
Doubts are dissolved. This man will prove himself as someone that should be taken seriously. He doesn't have to go overboard or be overzealous to prove himself. But there are actions and steps that he will take (even inactions) that will by themselves speak of his sincerity of purpose. You will have no cause to doubt or be afraid of his authenticity.
Showing through. People can smell genuineness from afar, especially people with good discernment and insight. It speaks for your safety if, after your loved ones like parents, mentors, and pastors meet this man and give unrestrained support to your relationship. It is a beautiful thing when friends and family can testify that this is good.
He is a deal-maker. This man will have many of the qualities (and more) that you want in your man. Lots of sisters have shared testimonies about how they wrote down the qualities they wanted in their man and after praying continually and believing God, the men show up in their lives – just with those qualities. That is because God knows what suits you best and has your interest at heart.
He has the same values as you. Values matter a lot. Values like family, accountability, integrity, timeliness, responsibility, prudence, and so on show well you can relate with this man in the long run. If he places a premium on the same values as you, then he might just be the man you have been waiting for.
How Do You Know When God Sends You the Man You Are Called To Be With?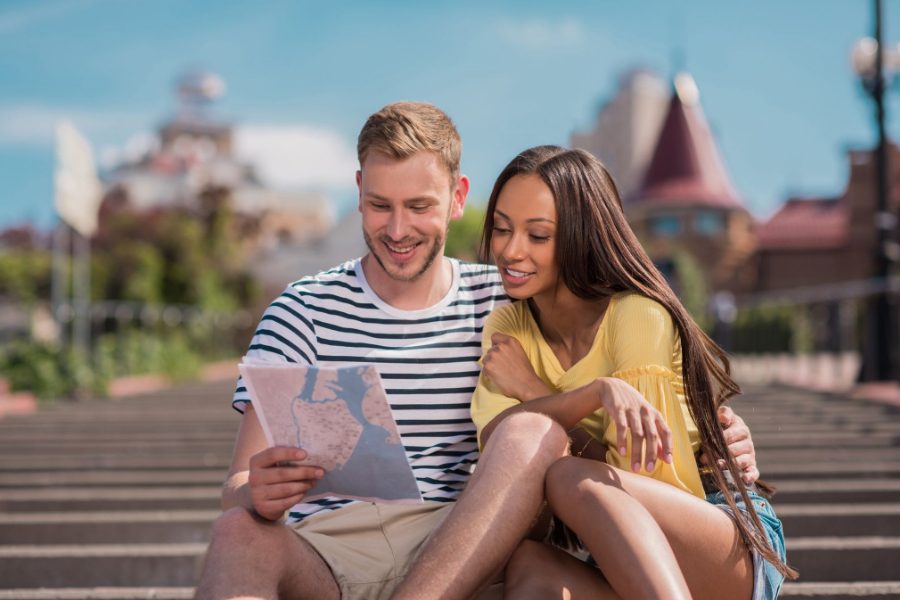 Okay, so, over the past few months, you have both been phoning each other, chatting on social media, and have even gone on some dates and outings together. But you are not quite sure if he is the right man. Lady, you had better be sure because when God sends you the man called your husband, you want to be with just that man.
Could he be the right one for me? He seems right, he seems perfect. You keep thinking. Yes, he is a Christian. Yes, he is kind and patient. Yes, he is funny and nice. Yes, he is committed and loves God. Yes, he is… Oops! Handsome! Yes, yes, yes. But how do you know when God has sent you the right man?
All those butterflies flying around in your belly can be thrilling and exciting but is he, right for you? A good man doesn't necessarily mean he is good for YOU! So how do you know when God has sent you the right man? How do you know that this man is not a bad deal for a spouse, a lifetime partner?
He honors God above everything else. If God is the one who sent him, then you can be sure he will reverence and honor God in all his ways. If that is not the case, then you know who sent him already!
He honors you. This man sees you as the daughter of the King of kings and will treat you like a princess if he is truly sent by God. He will not treat you shabbily because he considers it a privilege to court a princess.
He is a visionary. The right man for you will show that he has a vision for his life and not only that, he will encourage your vision as well.
He is focused. When God sends you the man who is your husband, you will discover that he is someone who is actively pursuing growth and progress in life. He understands small beginnings and is at the same time working towards greater things; he sees the bigger picture.
He is down-to-earth. He does not pretend to be perfect or to 'know it all'. He is humble enough to say I don't know, he is tender enough to apologize when he is wrong, and meek enough to learn what he does not know.
He accepts you. From the bottom of his heart, he is not irritated or impatient with your weaknesses and faults. He doesn't merely tolerate you. He appreciates that everybody has their weak points and he will love you sincerely with all your faults, weaknesses, and fallibilities. That man right there is the right man for you.
Perfect fit. Don't get it twisted – there is no perfect person on earth. No, there isn't! But, there is a man perfect for you. This man feels like the bone of your bone and flesh of your flesh. God is the perfect matchmaker and when God sends you the right man, it won't take forever to know that you are both a match made in heaven! You just know you are meant for each other.
The connection will be mutual. Love goes both ways. It cannot be from one side only. If the man is God-sent and he is the right one, both of you will connect on all levels – emotionally, physically, spiritually, socially, and psychologically.
The rapport will be inspirational. Getting to know this man, you find that you are improving in various areas of your life. A relationship with the right man will help your life to make better progress in various areas.
He is thinking Long-term. If this man is right for you, both of you will be on the same page about the tenure of the relationship. If he sees it as something casual and maybe, 'let's see how it goes,' sister, it's time to bid him godspeed. The man that is right for you will view the relationship in terms of the life-long commitment of wedlock.
Signs God is Leading You to the One

Did you know that by population statistics, male to female ratio is two to one? Meaning that worldwide, there are twice as many women as there are men! Well, that might not be exactly comforting news for the single lady hoping to be found by the 'one' man.
But! Hold on! There is better news! And you had better believe this – there is a man for every lady, who really desires marriage and trusts God for it. But how do you know exactly when God sends you the bloke you are called to be with?
You probably have wondered if there is someone specifically meant for you. Maybe you have been asking yourself, "Can I ever meet that 'one' person meant for me? How do I know if God is leading me to someone? What are the signs God is leading you to the one?
Ladies, to clear away any doubt and confusion, God brings you into circumstances that are pointers and signs God is leading you to the one. You just need to be able to recognize and interpret the signs.
Allow me to unravel some things that could be signs God is leading you to the one.
You are drawn to him. When God sends you the man called your Partner, you will be attracted to him. This goes beyond tall, dark, and handsome. There are an aura and charisma that he carries which draws him to you and vice-versa.
He values you. When you find a man who thinks the world of you alongside other considerations, he might just be your man. He genuinely values your views and opinions. He thinks you are fun to be with and shows that he cares.
He respects you. This brother keeps boundaries. He won't touch your body anyhow or disrespectfully, nor will he speak to you rudely. He is polite and courteous.
He directs you to God. When you run into situations, he is quick to offer godly advice, prayers, or suggestions.
Leading the way. If this man is the one for you, he will be someone you can look up to for advice and direction. If he is going to be the head of the home you hope to build someday, and he cannot make good quality decisions, it might not be worth your while considering him at all.
Respect. He commands your respect. If you cannot imagine yourself submitting to and respecting this man as your husband, then he isn't the one for you. Don't marry a man you cannot respect. Ladies, it's as simple as ABC.
Encouragement. He encourages you when you are down.
He stands with you. Your mission in life is of great importance to him. He is sincerely concerned about your purpose and mission in life. He pushes you to be better at it. He can send you online articles and point out anything to you that might be helpful for your purpose and goals.
He challenges. He challenges you to be better at what you do, without disrespecting you or making you feel small.
His temperament complements yours. This man is like you in many areas yet different in some. You don't want to marry someone who is exactly like you! I mean, where is the fun in that? It also means you both can grow together and sharpen each other's character.
He is ready to feature your vision in his vision – and make all adjustments for things to work out. Your vision and his own must be compatible or else it will be a miserable marriage.
He corrects you when you are wrong in love, without talking down on you.
He is a man of his word. What better sign is this that God is leading you to the one?
How God Leads You to Your Spouse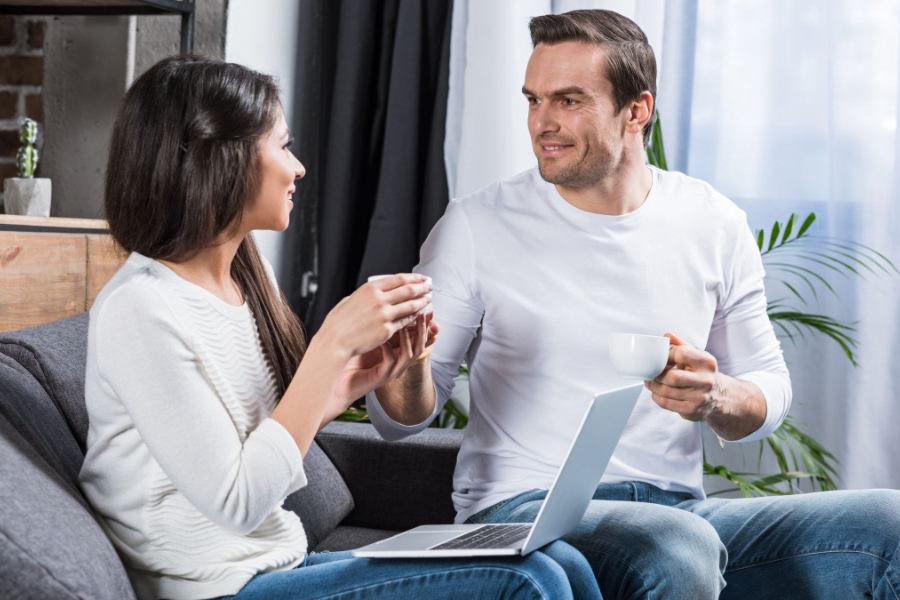 Can you allow God to write your love story by Himself? Can you let him guide you gently to that special man He has prepared for you? Can you wait patiently for the time when God sends you the man who is your husband? God is never early and never late; He is just always on time!
Have you ever prayed, God, please send me a man? Permit me to show how God leads you to your spouse.
Godliness. This is the one major hallmark to know that God is leading you to your spouse. It will be a waste of your time and resources to be entangled with a man that is not godly. So first check out the godliness arena if it is safe.
Peace. You have peace in the friendship. There is peace in your spirit even when disagreements happen between you two. There are no red flags in your spirit to say you are stepping on dangerous grounds.
Really, it doesn't mean he is perfect and without any flaws but they are not things that you cannot handle. And they do not make you compromise your values and ideals.
Joy. It is almost like peace. It goes beyond the feelings of butterflies in your tummy and that sheepish smile you have on your face when you think of him. It is not happiness, which is dependent on favorable circumstances and situations. No, Joy is a gift of the Spirit and can strengthen you more as you stay in that which is the will of God.
Contentment. You don't feel like you are settling for less than the best. He might not totally tick all your boxes, but when you consider everything, you are confident that you have the best deal from heaven's storehouse.
Connecting the dots. This darling man just seems to connect the dots in the story of your life. Now, this might take some time to comprehend but as things progress, you realize there was a reason God allowed some things to happen in your life three years ago and which you were complaining about at the time.
Right timing. The man comes in just at the right time. God's timing for relationships may be slightly different from ours but trust me when I say God's timing is the best. As you move along in the relationship, it occurs to you that the man came to the scene at the right time. It might not look like it at the beginning but as things unfold, you would be grateful that God brought man at the time He did.
God speaks to you about him. God is the best Father. When God sends you the fellow you are called to be with, God will definitely speak to you in a way you can understand and relate with.  God doesn't need to thunder from heaven.
The still small voice of the Holy Spirit; your intuition (that knowing that you cannot just explain – women are great with intuition); a word from your regular daily bible reading and devotion with the Lord; a word while listening to a sermon or; a passing comment from a friend who doesn't even know what is going on in your mind.
Then also it could be the more spectacular ones we know – words of knowledge, dreams, visions, revelations, etc. God can use anything and anyone to pass the message across to you, as long as you are sincere and your heart is open to Him.
God speaks to him about you. This might be an obvious one. But, erm, we have seen so many Christian ladies who say they are sure that a man is a god-sent yet, but the man in question cannot say the same thing about whatever 'situation-ship' they are both in.
If the man claims that he is just being a good and caring brother, and sister, you have already lost your heart to him, then know that God hasn't sent you that man. Or pray that God speaks to him too, if you are so sure about it.
So, ladies there you have it! Now, you can tell when God sends the man you are called to be with and you can recognize the signs that indicate he is the right one so you don't end up marrying the wrong person.