Still, thinking about how you can send simple wedding wishes but timeless and impressive to the soon-to-be-married couple or newly married couple?
Welcome, you are on the right page. Every line in this simple wedding wish is sweet, tender and completely fashioned for the couple.
Is it for your fave brother, sister, friend, colleague, or acquaintance who finally settled down? Below, you'll definitely find the choicest messages for friends and loved ones.
Wedding Day Wishes
Whether you want to send wedding quotes to a sister, a brother, or a friend. These wedding day wishes will surely convey the depths of your heart.
Here are the wishes that show how deeply you care. Send some, and be surprised at how much the couples would appreciate a simple love wish from a sincere heart.
1. Beautiful newlyweds, you're the most charming couple I've ever seen and you deserve all the happiness in your new home together. Congratulations on your union!
2. Wishing all the best for you two and happily ever after. Congratulations!
3. May your marriage bring you the most delightful memories. May love and respect stay with you forever!
4. Congratulations, may you have a prosperous family and a lot of great kids!
5. As you start this new phase in your life, let it be fun, beautiful, and unforgettable and make it the prying of others. Smiles, congrats!
6. May love, the oneness of heart, and sound mind be the center of your union! Congratulations!
7. I wish you true joy, reaching every area of your marital life. Best wishes on your special day!
8. Wishing you all the beautiful things that oneness brings into the marriage. May your marriage be decorated with peace and happy moments!
9. Big congratulations on your special day, my dear! The time of loneliness is gone for good, cause your partner will be there for you at all times. May God's timeless love be the anchor of your union now and always!
10. My heartfelt prayer on a day like this, my dear, is that you will stay happy together forever.
Simple Wedding Greeting Messages
It's really a big day and one where simple wedding greetings can never be too much to offer to newlyweds or couples-to-be around us they serve as an expensive gift from sweet souls that care.
Check them out and share them with newly married couples these lines are suitable for greeting cards.
11. May you have the best on your special day and a future full of happiness. Lots of love.
12. I wish you all the very best and I look forward to catching up with you after the honeymoon. Lots of love.
13. The big day is finally here and I am so excited for you. May today's wedding ceremony all goes to plan and be filled with a remarkable memory. Lots of love.
14. I'm really grateful that today has finally arrived! May it be as special as you are and be memorable. Blessings for the future.
15. May your love and affection light the way. Good luck with the great future ahead of you.
16. Congratulations! You have tied the knot and the wedding vows are done, now let's have some fun! Happy married life.
17. My prayer for you is to live a happy and fulfilled life. Lots of love.
18. Wishing both of you success and joy on your wedding day.
19. Wishing you a beautiful wedding ceremony with lots of special memories. Lots of love.
20. Wishing you both a successful wedding today with a beautiful honeymoon to follow. I wish you all the very best on this special day
Wedding Messages for Sister-in-Law and Brother-in-Law
Sending lovely wishes should be a thing we do naturally, so no matter who it is, we should send them our heartfelt goodwill wishes and prayers.
The family covers even those who are brought into the family by reason of union with our siblings.
Moreover, knowing fully well as stated in the Holy Scriptures, we know that; 'two will become one. A brother-in-law or sister-in-law becomes family too.
21. Once upon a time, you told us of your intentions to get married and now you get to do it in real life. I am so happy for you, brother. Congratulations!
22. Congratulations, you've found love, and love has found you. May you keep falling in love with the same person now and always. Lots of love, sister.
23. I love you both. Today I gain a new sister-in-law and I couldn't be happier!"
24. Lots of love and a good life to you both on this beautiful day of your wedding and a joyful day for our family. Congrats, brother.
25. Happy you've found the quality of a perfect man on your list. Lots of love now and always.
26. Lots of love to the best brother ever and your beautiful partner. May you have a marriage full of love and joy.
27. You bring my sister so much Happiness and blissfulness. All my love! Congratulations.
28. I'm so glad to have a brother-in-law like you. And I wish you and your new bride lifelong happiness.
29. My deepest desire and prayer for both of you is that there will never be a better yesterday. Congratulations!
30. Big congratulations! As you and our new sister-in-law start your life together. I'm happy to add one more sibling like you.
Non-Cheesy Wedding Card Messages
An awesome notion of marriage can be painted in the hearts of new couples by inscribing non-cheesy wedding card messages such as wedding wishes and congratulations on cards.
The world is made up of different 'schools of thought' about marriage. However, we are of the opinion that marriage is a great thing that could and should happen between two friends of the opposite gender.
You no longer need to bother about what to write on a wedding card, just choose from these messages for them to discover the sweet adventures in marriage.
31. Your new family is just like a newborn that needs all the care of her mother: give love, respect, rapt attention, and care as if your union depends solely on them. Congratulations on your wedding!
32. Create an atmosphere that strives for mutual support and appreciation of one another. Happy married life.
33. Aww! Even the length of this message is just not enough to show you how excited I am, knowing that the two of you are getting married. Congratulations, dear.
34. It feels so good knowing that the amazing relationship between the two of you will be ending in marriage even today. Big congratulations!
35. I pray today, may your love flourishes forever. May the abundance of grace and peace always stay in your marriage! God bless your union
36. Wishing that your love prospers in good health and happiness till your last breath on earth. Congratulations on your wedding day.
37. May you always find courage and strength on behalf of each other and may your union live as long as heaven does. Congratulations on your wedding!
38. May your love for each grow like the plant at the seashore and fresh each morning like the dew of heaven. Congratulations!
39. Look after each other, because now you are the best friend of each other now. Congratulations on your wedding!
40. Always desire to know your partner's heart and feelings. Wishing you a happy married life, love you, congratulations!
Wedding Wishes for Childhood Friend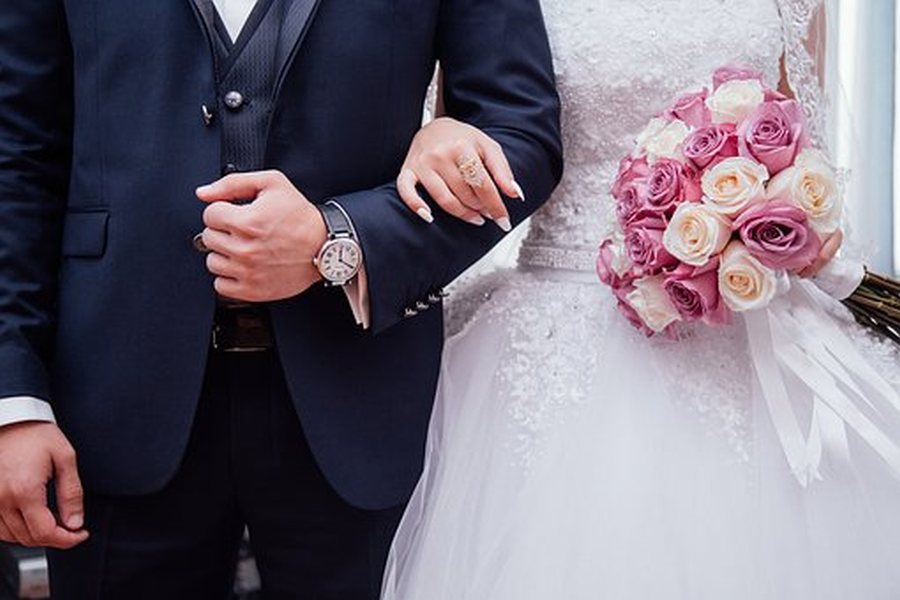 Marriage is a blissful union, yes, definitely full of bliss. Take from them and send them as parcels full of blessings to your childhood friends who are experiencing such an awesome season of union with their beloved.
41. May it always be a thing of top priority to cherish the love and affection you have for each other on your wedding day forever. I wish you a happy married life.
42. May love and respect continue with both of you now and always. Congratulations on your marriage.
43. Congratulations on your wedding. May your love for each other outlive every challenge in the marriage union.
44. What a great joy that you've finally found the man/woman of your deepest heart desires. Congratulations, my friend, I look forward to seeing those honeymoon pictures!
45. May your life with your partner be filled with so much lasting joy. Congratulations on your big day.
46. Henceforth, God's goodness and mercy shall lead you two to a lifetime of love and happiness. Congratulations!
47. The best feeling in life is to have someone to turn to at any time of the day. The long wait is worth it, dear friend, I'm happy for you. Congratulations!
48. Above all, always trust each other. Let your love triumph over everything life brings between you two. Accept my warmest wishes, and congratulations, friend.
49. My simple wisdom says: "Always prefer your partner better than you in everything because it curbs any unnecessary argument." May you have all the blessings of marriage. Congratulations.
50. I'm happy you found someone you can fall in love with over and over again. May your union last forever and may your new home be seasoned with an abundance of happiness. Happy married life.
Simple Wedding Wishes for Loved Ones
You can be sure of a lasting memory being etched in their hearts. More importantly, with a view of promising days ahead, let's send inspiring words to engaged couples out there. Relax, while you feed your eyes on them.
51. I wish you a lifetime of days just as wonderful and fond memories to look back to as this one today. Congratulations on your big day. Much love!
52. I am really excited you found sweet love with one another. Hey friend, I wish you a peaceful married life.
53. Big congratulations! May your love for each other wax stronger from this day.
54. Congratulations on your wedding, my dear friend, I am happy you win her over to marry you. Happy married life, Mr. Handsome!
55. Aww. I rarely see you this super happy, I'm so glad you found true love with this one, girl. congratulations and happy married life.
56. As you begin this new adventure together as husband and wife, may your togetherness be stronger than whatever comes to stand in your way. Happy married life.
57. Congratulations on your wedding. May the Lord's blessing be your greatest wealth. I can't wait to see them manifest. Here's to a lifetime of happiness.
58. May your home be blessed with all that is good and perfect. Happy married life.
59. Congratulations on your wedding. May the years ahead be filled with lasting peace and tranquility for you two.
60. May the love you share today grow stronger and more beautiful as you grow old together. May nothing under heaven separate you from each other. Congratulations and happy married life.
61. Wishing you the best experience this season of getting hitched to the love of your life has to offer. I am thankful for this season of your life. Big congratulations to you.