Looking for Friendsgiving quotes and ideas to celebrate the blend of friendship and Thanksgiving in this season of Friendsgiving celebration as you eat some delicious meal with friends either on or near Thanksgiving? No worries! These Friendsgiving quotes and ideas will do the trick for you to double your happiness for this special day with your friends.
Truth is, we all love our holidays; a Friendsgiving celebration is one of such informal ones to sandwich in between the more conventional ones. Hence, in the spirit of this Friendsgiving season. These well-scripted Friendsgiving quotes will show your friends how thankful you are in this Friendsgiving season.
Wilson Kanadi said it best: "Friends are like the second family you make for yourself. Friendship makes you feel home though you're not at home." In other words, I will be right to say friendship is a gift to us just as our family is to us all.
Undoubtedly, the Friendsgiving celebration that began as an alternative to Thanksgiving has been endorsed by all and sundry as a second Thanksgiving. So, in the joy of this Friendsgiving celebration, here's an extensive list of Friendsgiving quotes to share with your friends.
Clever Friendsgiving Quotes
Have you ever had the feeling that you're indebted to some friends? Not every debt is monetary you know, so enthrall your friends with these clever Friendsgiving quotes to show them that they worth all the beautiful lines in this post on this Friendsgiving season.
1. It is one of the amazing things of old friends that you can get to be so weird with them and everything still remains just fine. Thankful for your friendship!
2. True friends say it to your face and they will never stab you at the back. Friends equal family! Happy Friendsgiving day, Pals.
3. There is nothing on this side of eternity that is so appealing than a friend unless it is a friend with good food, good meat, and chocolate. Let's eat and give thanks with friends. Happy Friendsgiving day, Playmates.
4. On a day like this, it is more fun to be with friends who do not use endless words but rather short, comfortable words like 'What about lunch at my place.'
5. It isn't so much about the best place to hang out on Friendsgiving day that matters but the kind of people who makes the holiday worth celebrating. Happy Friendsgiving day, dear friends.
Please wait a minute! Apart from constantly publishing meaningful content here as the owner of this blog, I am also a fast-rising artiste who need your support by simply subscribing to my YouTube channel. Thank you so much.
6. Folks out of good gesture can buy you food to cheer you up and put hunger at bay but best friends make sure they eat your food on Friendsgiving day. To my best friends, I raise a toast to all of us. Thankful for your friendship!
7. A friend like a sibling is someone who knows all about your ups and downs and still loves you to the moon and back. Happy Friendsgiving day, Bestie.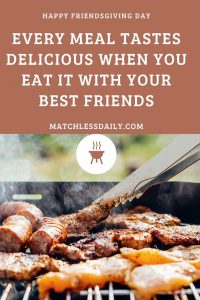 8. Friends are the strangest person whose path crossed once and are stuck together forever. Lots of love, dear friends. Happy Friendsgiving day.
9. Friends decide to love each other for a lifetime just like friends who feast together on Friendsgiving day, stay together.
10. Today, I will love to celebrate Friendsgiving day in an old-fashioned way. I am inviting both old and new friends in my neighborhood to have a tremendous feast at my house but without the awkward family questioning. Let's get the party started! Happy Friendsgiving day.
Cute Friendsgiving Quotes
There's a bond shared with 'family,' and there's one shared with friends that cannot be forgotten. This bond can't be broken because of those exceptional moments and memories shared together.
We have the best words here for you to put those experiences together as cute Friendsgiving quotes for this season of Friendsgiving.
11. Only your real friends will bring over their family's leftovers to your house on the Friday after Thanksgiving to celebrate Friendsgiving day with you. So, friends let's eat until the last piece of the pie.
12. Thanksgiving celebration is cool but the Friendsgiving celebration gets one closer to friends like family —people we wish were our real family.
13. Between best friends, differences in taste or opinion are settled on Friendsgiving celebration day as we are better together with turkey, cranberry sauce, pie, and birthday cake!
14. Friendsgiving day presents us the perfect privilege to talk all the nonsense we have kept in our minds, and to have all the nonsense valued and celebrated.
15. Friends I can't wait, Friendsgiving will be taking place at my residence cos I've specially made pie, turkey, and cranberry sauce that will give you a jaw-dropping feeling.
16. You can always tell a real friend on Friendsgiving day: when you've made a watery cranberry sauce and he will not feel you've done permanent damage.
17. The gift of friendship is so amazing, patriotic and enduring an entire lifetime, if not asked to loan money. However, thanks to the ones who still lend to us for they are the folks who make our souls flourish. Happy Friendsgiving day.
18. The presence of friendship in our lives is God's way of making us an expression of Him. Happy Friendsgiving.
19. Just like vegetables are a must on a diet, that is how genuine friends are a must in one's life. I am thankful for your friendship and Happy Friendsgiving to you all.
20. If you really want to make a good friend, go to someone's house and eat with him or her on Friendsgiving day.
Friendsgiving Quotes From Friends
Here are some inspiring Friendsgiving Quotes From Friends. Just as you want your garden to be full of ever-flourishing flowers, make them feel the warmth of your care in this season of Friendsgiving celebration.
21. Dear friends, in this beautiful season all good things in life are yours, not just on this Friendsgiving day, but throughout the remaining days in this year as well. Happy Friendsgiving day.
22. In reality, we may be living pretty far away from each other, and our dwellings a great distance from each other, but our hearts are always knitted together. I am thankful to have you folks in my life. This is my thank you note to friends who make me happy.
23. Many a time, because of daily activities we forget to appreciate friends for being in our lives through thick and thin. On a day like this, here's a thank you verse to make up for all the times I've forgotten to say thank you for being my friend. You are unique and my life has been awesome because of you. Happy Friendsgiving day, dear friend.
24. It is not just the celebrations that make Friendsgiving peculiar. It is a time to think deeply about the beautiful lessons we learned through the time and season spent together, and the joy we spread to people around us. Happy Friendsgiving day, best friend.
25. I always look back at the memories of the moment we share together and look forward to another time of Friendsgiving day as we eat turkey, cranberry sauce, and pie.
26. Here's sending you my warmest wishes and thoughts for a memorable Friendsgiving day. Receive them with Thanksgiving and warmth. Thanks for being there for me.
27. We are part of something heavenly and unique. We are best friends, but also family. You will be a darling beloved to me for the rest of your life, and I am eternally grateful for having you in life, dear friend. Happy Friendsgiving day.
28. Genuine appreciation they say 'unlocks more blessings of life for the one who gives it.' I am so elated to have you by my side on this day of Friendsgiving. Happy Friendsgiving to the friend dearest to my heart.
29. May this day of Friendsgiving bring you renewed strength and great values that will never fail. I pray the good Lord blesses you with a long and happy life. Happy Friendsgiving day.
30. One of the most unique things about Friendsgiving is wishing both far and near friends Happy Holiday Season and healthy life as a token of friendship. Happy Friendsgiving day, Pals.
Friendsgiving Quotes Funny
What about spicing up this Friendsgiving season of celebration with these Friendsgiving quotes funny and wait to see the grin on their faces when Friendsgiving quotes funny pops up on their phones.
31. I love absolutely everything to do with Friendsgiving because I get to eat the delicacy on the table without the awkward family question and answer.
32. Just the way I've got a good family, the same way I've got good friends – charming at eating everything until the last piece of pie. Happy Friendsgiving day, Pals.
33. Friends don't let friends skip a meal on Friendsgiving for we are quite better together with turkey, cranberry sauce, pie, but in my case, Friendsgiving cake!
34. Friends are the family you choose to eat your family leftovers meal from Thanksgiving dinner. As friends equal family and sharing things in common equals Friendsgiving.
35. I've only got pies and turkey for you the only good news I like to hear on the Friendsgiving day. Gimme some more, Pal. Happy Friendsgiving day.
36. Let's get started with some cranberry sauce. Friends who eat together, stay strong together. Happy Friendsgiving day, friends.
37. I want a large turkey to eat on Friendsgiving day and I will love to eat it with the friends I wish were my real family.
38. Friday after Thanksgiving to celebrate Friendsgiving is all that matters to me cause I want to Gobble til I wobble with friends far and near –Eat turkey until I am so full that I can barely walk.
39. Give thanks with friends equal to Friendsgiving, You can feast with us is a common language of the day. Friends eat until the last piece of Turkey.
40. The true vibe of the day comes when Friends who feast together are comfortable talking about what they admire in each other.
Happy Friendsgiving Quotes
When just ordinary messages are not enough why not send these happy Friendsgiving quotes to your friends on this season of Friendsgiving.
41. I am grateful for the unlimited affection and unwavering love you are giving me. Thank you for being a genuine friend and for being you. Happy Friendsgiving day to you.
42. We must lift up our gratitude to the Lord for the amazing life He has given to us on this side of eternity. Here is wishing you many more holidays to celebrate, dear friend. Happy Friendsgiving.
43. Dear friend, your greatness propels everyone to prosperity and great virtue. Thank you and a happy Friendsgiving from all of us here, my Bestie.
44. A movie, a scintillating table, a positive vibe, and shares of good laughs on this special holiday of Friendsgiving are my intentions with you. Thanks for being for my friend. Happy Friendsgiving.
45. Here is wishing you greater blessings with the best of everything on this holiday. I pray you will have the vigor to transcend any barrier life hurls at you. Have a blessed holiday and happy Friendsgiving.
46. I am sending your way a toast, loves across the miles from my residence to yours. Here is my desire that your beautiful home will be filled with prosperity, blessings, and joy. and happy Friendsgiving.
47. I just want to convey my profound gratitude for your faith in me and commitment to see me prosper. I am grateful to have you in my life, and here's my warmest wish for a happy and healthy Friendsgiving.
48. Let's pause to count God's blessings over our lives. Let's begin with the liberty He has given us to live to the fullest. And then continue to the gift of friendships and relationships we have in our lives even on this day of Friendsgiving. It is certainly a gift to have good friends, and for this, I am grateful to God. Happy Friendsgiving.
49. May your cranberry sauce be tasty, your turkey delicious, your mashed potatoes and flavoring have the right proportion, and may your yams be savory to everyone who eats from it. And more importantly, may your pie be the best on this Friendsgiving day. Happy Friendsgiving, friend.
50. Friendsgiving is a moment to reminisce and thank those who uplift us in every way possible. Honestly, I may be grateful for a lot of things in this life but chiefly, I am grateful to have you in my life.
51. With an atmosphere of mouth-watering turkey, delicious cranberry sauce and sweet apple pie, let us remain thankful for the memories made in these past years of friendship and look forward to making much more in the coming days. Have a wonderful Friendsgiving.
52. I wish you an awesome Friendsgiving and a glorious season for this wonderful holiday. You are the reason this Friendsgiving is amazing. Thanks, buddy.
53. You are a treasure in my heart, and during this Friendsgiving, you remain in my heart and my prayers are with you and your loved ones. Happy Friendsgiving.
54. Having you as a friend is the sweetest blessing of all the time that I will ever live to be thankful for. Happy Friendsgiving day.
55. To a special friend who makes me glow like a shining star, I am sending you blessings from my heart to yours, and may this day be a sign of all the good things life has to offer you. Cheers to a good friend. Happy Friendsgiving.
56. Friendsgiving is all about sharing love and care! It is a season to share what we have with all and sundry, a season to pay more attention to the less privileged and be grateful for what we have to share with them. Let's give, givers never lack! Happy Friendsgiving.
57. As we gather around our dear friends today to celebrate Friendsgiving, let us share the love in our hearts with those around us. Have a thoughtful Friendsgiving, Pals.
58. May you find God's eternal love, serenity, the gift of abundance, hope that doesn't disappoint and the true spirit of the holiday season during this Friendsgiving season. Rejoice friends, yes I say rejoice!
59. A grateful heart is the hallmark of all virtues. So, Friendsgiving avails us a chance to give thanks for all the things we have now and those that we are yet to receive in the coming days. Have a superb Friendsgiving.
60. To a unique friend who has been there for me through thick and thin, you are a wonderful blessing to me, may your dreams come true as you begin the celebration of this Friendsgiving today. May you have a joyous Friendsgiving, dear friend.
Thanksgiving Friendsgiving Quotes
The moments shared together, the stories told, the kindness shown, the journey walked together through the year and many others are reasons a friend stands out amongst many. Then sending one of these thanksgiving Friendsgiving quotes will be an awesome thing to do.
61. I want to let you know on this day that I cherish every moment of the day with you. On this unique holiday of Friendsgiving, I want to say thank you for being unique to me. Happy Friendsgiving day.
62. I pray that you are decked with the love of your loved ones like never before. Happy Friendsgiving season and holiday to you and your loved ones.
63. May this Friendsgiving day be filled with love, warmth and good vibes, but also full of yummies and tummies (smile). Happy Friendsgiving.
64. With your friends like family both far and near this is your best bet to make this day as memorable as you can. Appreciate them from your heart. Happy Friendsgiving.
65. Friendsgiving is the time of the year when you celebrate and eat the large turkey as you can with friends who have added so much color to your life. I hope you have a fun-filled Friendsgiving day on this special holiday.
66. This is another opportunity to appreciate those who enrich our lives with love and affection. It is a time to remember significant experiences with friends that have caused undeniable changes in our lives and that have decked us with great success. Happy Friendsgiving.
67. Friendsgiving day is that time of year to extend your appreciation. So, I am most thankful for your dear ones who have been a blessing to me. Have a memorable season of Friendsgiving. I love you all.
68. May you have a remarkable Friendsgiving as I wish you happiness, joy and many amazing memories in this special holiday season of Friendsgiving. Thank you for being there for me.
69. Sending my greetings with an inundated love and many riches for a long and healthy life in this season. May this day fill your heart with unstoppable joy and a grateful heart of Thanksgiving. Have an unforgettable Friendsgiving day, dear friend.
70. I like you to know that my thoughts of prayers and goodwill are with you on this lovely Friendsgiving celebration, as I send to you warm appreciation and lots of love in this season, may your joy knows no bound. Have a wonderful Friendsgiving day.
71. I hope this Friendsgiving day comes with dinner by the fireside, joy at the riverside and peace for the journey we shall take with friends on this holiday season.
72. May all the good things of life; peace, joy, and beauty be your portion during this awesome season. Happy Friendsgiving, dear friend.
73. Here are my heartfelt wishes for you this season: may you find success in all you do! Have an inspirational Friendsgiving day.
74. May life begin to favor you more than your wildest dreams in this season of holiday. Happy Friendsgiving day to you.
75. Lines are fallen unto you in pleasant places; yea, you have a goodly heritage in this holiday season. Happy Friendsgiving day, dear friend.
76. They say when you treasure all that God has given you, then you'll realize you have everything you need in this life. I'm glad I have you in my life. Happy Friendsgiving day, bestie.
77. Hey, sweet friend, though we have misunderstanding sometimes, the truth is, having you as my closest friend in my life not only makes each day we share together more rewarding, but you make every day more like heaven on earth. Happy Friendsgiving to my best friend.
78. Truth is, no one is as good as you when you prepare the following Friendsgiving delicacies: Veggies, Mash potatoes, Turkey, Pumpkin pie Stuffing, jeez! You are so good, dear friend. But nothing comes close to having you as my best friend. Hoping to share the same delicacies with you by 3 pm today. Happy Friendsgiving day.
79. On this Friendsgiving day, I want to do more than just stuff your gorgeous face with all the good food on the table. But much more, I'll begin by saying that I am eternally thankful for all you have done for me. Happy Friendsgiving, best friend.
80. In life, when you are thankful for the little you have then you cannot but get more as the days come by. Hence, with you, my best friend, I already have all I need to make life more beautiful. Happy Friendsgiving day!
Best Friendsgiving Quotes
Sending awe-inspiring Friendsgiving quotes to a special friend wouldn't be too much in this Friendsgiving season. So, go ahead and use some of these best Friendsgiving quotes to spice up this beautiful season.
81. Dear friend, here's my warmest wishes for a cheerful Friendsgiving. May your life be full of good things this life can offer; in good health and prosperity as you celebrate this beautiful Friendsgiving day.
82. Friendsgiving is one of my best-loved days of the year because it reminds me to give thanks and to count my blessings throughout the year. So, on the spur of that moment, as I count my blessings then a lot of things becomes so clear when I recall how undoubtedly blessed and lucky I am. Happy Friendsgiving.
83. I wish you a Friendsgiving that is filled with eternal peace of mind. May everything that is perfect showers your barn with blessings and may you have all grace to overcome every obstacle. May this be a new season of greater height for you. Happy Friendsgiving Day.
84. Friendsgiving is a special season since it gives us unique chance to spread the joy we carry on the inside, recall our past wonderful memories, think about the lessons we have learned through thick and thin and be thankful to the people in our lives who have helped us to see the light at the end of the tunnel. I wish you an incredible Friendsgiving day.
85. Here's my warm Friendsgiving greetings that go out from my home to yours in this holiday season, my friend. I hope to see you grin like never before and take merrymaking to the next level. Have a fabulous Friendsgiving day.
86. May this Friendsgiving be filled with many undeniable blessings that transcend even this season and immeasurable joy shall be your anchor for this awesome season. Have a happy Friendsgiving!
87. Have a cheerful Friendsgiving with tummies filled with turkey, cranberry sauce and pie, buddy. Happy Friendsgiving day.
88. Many a time, life can put us in an unfavorable situation that gives us an idea that we are all alone in some situations. However, giving thanks no matter what the situations are, gives us divine help from above. So, be sure to be thankful in every situation so that your life can be filled with more joy in every season. Happy Friendsgiving day.
89. Another moment is here to reminisce about all the wonderful people in our lives who have contributed so much to our lives and to be grateful for the times we have shared together. Enjoy this Friendsgiving, my friend.
90. Friendsgiving presents us the opportunity to bond with friends both far and near to make every moment as special as we can. Here's sending my heartfelt wishes to all my friends on this beautiful day. Happy Friendsgiving.
Friendsgiving Quotes for Instagram
Friendsgiving quotes for Instagram photos are usually fascinating when backed up with words. I've got the words prepared for you here, check them out and put up the interesting photos of this season of Friendsgiving celebration with the words here as captions. Remember to use the Hashtag #HappyFriendgivingday. Here are the best Friendsgiving Instagram captions.
91. Friends, let's give thanks now, and every day after. #HappyFriendgivingday
92. My heart is full of my merrymaking and I've decided to stay put till my tummy is full too.
93. Life is awesome when you're thankful with best friends.
94. Appreciation turns what is little to be enough.
95. Friendsgiving is a joyous celebration to lavish the world of friendship with love and gratitude.
96. Some may not have it all put together, but together, we have it all when friendship is the drive.
97. We are joyous. We are grateful because we are friends.
98. Every meal tastes delicious when you eat it with your best friends.
99. Friendship is a wonderful place to share love and affection.
100. Grateful friends are characterized by love unfeigned.
101. Good vibes and all the Mash Potatoes.
102. Give thanks in all, then you will find out you are really blessed.
103. Giving thanks for the gift of friendship.
104. Thank you for the delicacies before us all, the bond of friendship we share together and the love that keeps us as one.
105. It's not only good food that makes us thankful in this season; it's the gift of friendship that makes us joyful and grateful. #HappyFriendgivingday
106. As you hold on to the turkey and pie, you hold on to me now with the people that matter to you. Folks who your affection is set on you! Happy Friendsgiving Day, Pal.
Awesome Friendsgiving quotes, right? You can push a comment to ascertain that. And I will love you to share this post. Thank you for doing so! Happy Friendsgiving Day To You.